Otter Class and Bat Class (Year 6)
Here you will find an overview of the themes and activities undertaken each term.

Topic: 'A World At War!'
Term highlights...
Cinema trip - The Railway Children Return
Future Foundry lantern making workshop
Cooking a Christmas wartime meal
Christmas disco!



Music - Rhythm & Pulse
Kianniah - "We didn't get it on the first try, but we practised and then we got it."
Archie - "I got the rhythm eventually. When I lost the rhythm, I looked for who had it and then joined back in."
Nicole - "I really liked the Hanky Panky song and we were all laughing and having fun."

Topic: 'A World At War!'
Term highlights...
Art Week & a trip to South Foreland Lighthouse
VIP Day at Astor Secondary School
Dover Castle trip!



During Art Week, we visited South Foreland Lighthouse to inspire our artwork for the week. It was incredibly windy, but we thoroughly enjoyed our tour by Chris and Brandon. We then worked alongside local artists to create lighthouse lanterns using willow wood and latex.
Leo – "I liked the topic because it was interesting and I hadn't done it before."
Ollie – "I enjoyed the trip and seeing inside the lighthouse. The view was amazing from the top."
Leo – "It was creative and I liked building the structures instead of drawing."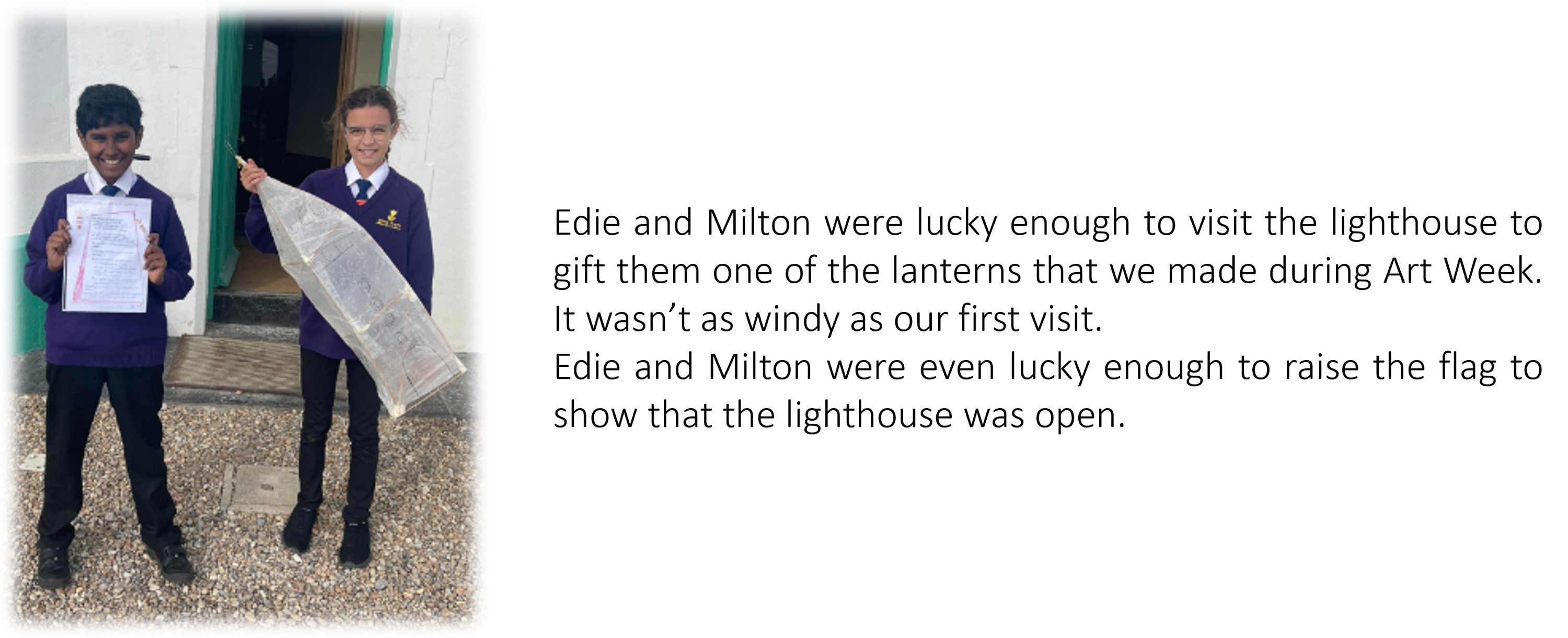 Dover Castle
Kasey - "We went to see the statue of Bertram Ramsay. He was really important during World War II as he led the Navy. He was called back from retiring after World War I."
Harry - "My favourite part was the tunnels and the best part was the video because it was cool seeing WWII footage. I really liked the keep because you had a good view from the top."
Edie - "I liked Admiralty Lookout as we could have a go at Morse code and playing with the different communication devices."
Topic: 'Moving On!'
Term highlights...
Sports Week!
Science Jamboree
Transition to secondary schools!



We had a fantastic morning at The Science Jamboree. We had fun looking at different scientists, blowing bouncing bubbles, making rainbows from different liquids, transferring forensic evidence and programming a robot! Thank you to Canterbury Christ Church University for organising such a brilliant event!


Topic: 'Keep Calm And Carry On!'
Term highlights...
SATs!!
Viking battle chants
King Charles' coronation






Topic: Beowulf!
Term highlights...
Workshop with local artist, Frazer Doyle
Science Week
World Book Day





Topic: 'Not for the faint hearted!'
Term highlights...
Safer Internet Day - Our Year 6 eCadets led assemblies to the different Key Stages to teach them about staying safe online.
Screen printing
Heart dissection





Topic: 'A World At War'
Term highlights...
Cooking a rationed meal
Raven House Captains switching on St. James' Christmas lights!
Lantern making workshop with local artists
Christmas!


Our topic in term 1 was: